Please meet my new favourite condiment:
Why It's A Smart Choice
Since Frank's
is entirely associated with wings in my mind I didn't even think about it as a sauce I could use in my everyday cooking. One day, out of curiosity, I picked up a bottle and read the label. To my surprise the ingredient list was short and comprised of everyday foods. It's basically a very flavourful salt! 2 tbsp of Frank's
has the same sodium as 1/2 tsp of salt. When I use Frank's
in my cooking I omit the salt and voila: instant taste and spice! I would encourage you to do the same: use it as an ingredient in the recipe instead of splashing it on at the table, which would only add extra sodium to an already salted dish.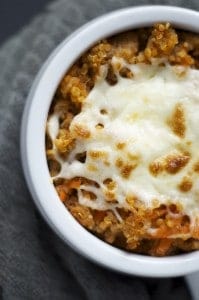 For this recipe, I pulled together all the classic flavours of red hot wings into a healthy, balanced meal: chicken, Frank's
, carrots & celery, and bleu or mozza cheese.
If you give this recipe a go, let me know! Leave a comment, rate it, or snap a photo and tag it with #smartnutritionrecipes on Instagram! I'd love to see your creations! Knowing someone has enjoyed one of my recipes always makes my day brighter.
Print
Buffalo Chicken Quinoa
---
Ingredients
1 lb ground chicken (or turkey)
1-2 small to medium onions, diced
6-8 cloves of garlic
1 large carrot, grated
½ tsp thyme
⅛ tsp white pepper
1 can (156 ml) tomato paste
Fill the empty tomato paste can half full of water
1 tsp Chicken Better Than Bouillon
⅓ cup Franks Red Hot Sauce
1 (15 oz) can navy beans, drained and rinsed (or 1.5 cups cooked)
1 cup quinoa, uncooked
shredded mozzarella or blue cheese crumbles, for serving
celery sticks, for serving
---
Instructions
Cook the quinoa according to your package's instructions. I add 2 cups of water for each cup of quinoa I make. If you have a rice cooker, quinoa cooks up very nicely in that appliance!
While the quinoa is cooking, saute the ground poultry and onions in a large frying pan over medium.
Once the chicken is cooked through add the garlic, carrot, thyme, white pepper, tomato paste, water, bouillon, Franks Red Hot Sauce, and navy beans. Cook until heated.
Once the quinoa is cooked, stir it into the frying pan.
Serve with grated mozzarella or crumbled bleu cheese on top and sticks of celery on the side.
Like what you've read? Click here to subscribe to this blog!