Greek Meatballs with Easy Tzatziki Sauce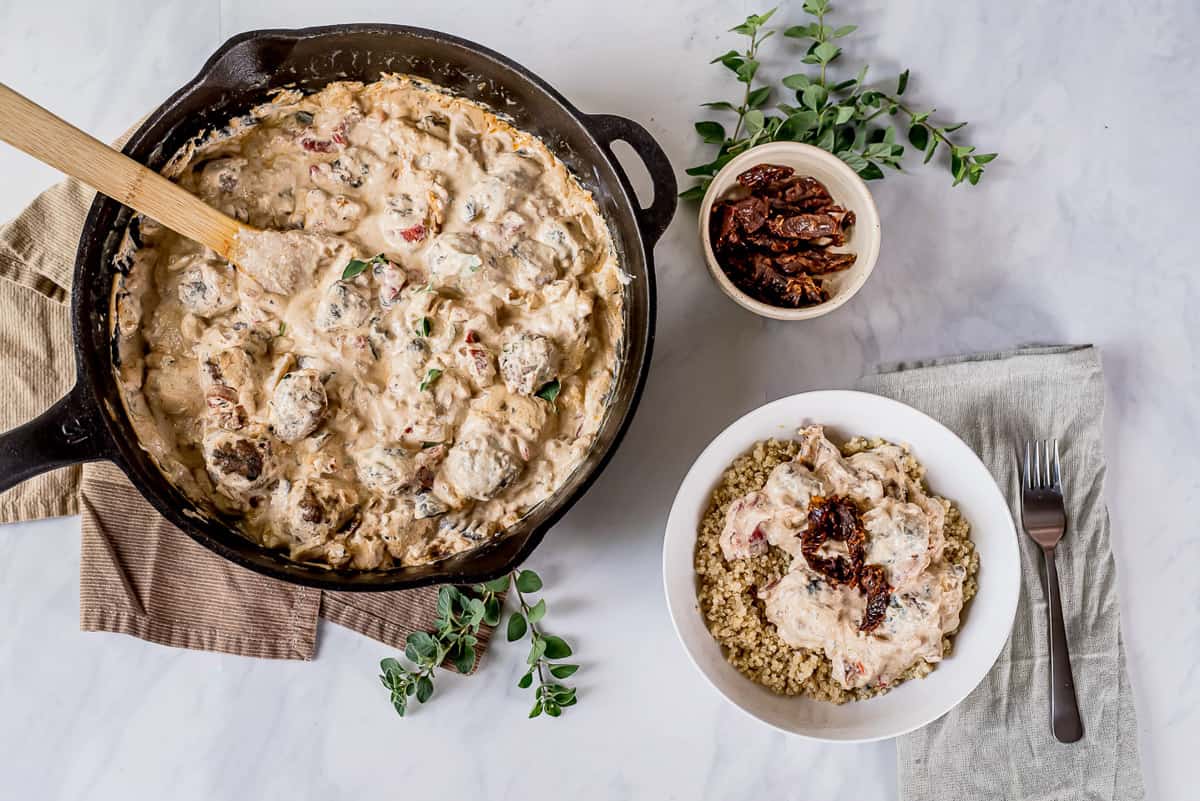 With a tub of tzatziki and frozen meatballs, dinner is made in 15 minutes!
I read on this blog that Greek meatballs (aka keftedes or kofta) were often served on Saturday as a quick and easy meal since the day was traditionally set aside to get the house clean for Sunday and McDonald's and frozen pizzas weren't a thing yet.
I had to laugh because if you've ever made meatballs, you know they're not exactly quick and easy! You have to mix all the ingredients, painfully roll each little ball, cook them, and then put together a sauce, veggies, and a side dish to serve them with!
Not exactly my idea of an easy meal!
Unless… you've already got the meatballs made! Then throwing them together with a quick sauce is super convenient!
Which is why I love to buy a big costco sized tray of ground beef and keep a stash of these freezer meatballs on hand!
Then all I need to do is re-heat and eat!
Especially with this sauce! It's a bit of a "cheater" sauce because the main flavour comes from a tub of tzatziki.
I love me a good homemade tzatziki but I also love healthy convenience foods!
Why These Greek Meatballs are a Smart Choice
The greek yogurt tzatziki is rather magical in that it acts like a creamy sauce but also provides a source of protein!
And… just as a reminder, here's the link to the world's BEST freezer meatball recipe!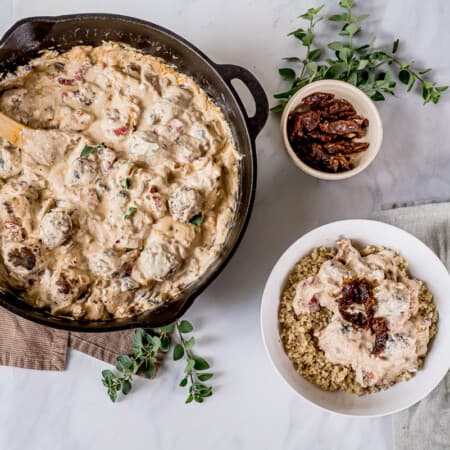 Greek Meatballs with Easy Tzatziki Sauce
Print Recipe
Ingredients
1

tbsp

olive oil

1

onion, diced

2-3

cups

mixed veggies

*mushrooms, spinach, roasted red peppers, sun-dried tomatoes, marinated artichokes

2

dozen

cooked and frozen meatballs

2

cups

Greek yogurt tzatziki

*I always use skotidakis brand. You definitely want it to be nice and thick

1

cup

beef broth

*I like to use Better Than Bouillon
Instructions
Heat the oil in a large frying pan or medium sized pot over medium low.

Saute the onion until soft and starting to turn golden brown.

Add the remaining veggies and meatballs. Cook about 2-3 minutes.

Add the tzatziki and beef broth. Stir to combine then cover and simmer until the meatballs are heated through.

Serve over quinoa, rice, or with pita bread. Add a side salad for extra veggies 🙂