Step 1: Choose a pumpkin
Here's how to choose your pumpkin.
If you want your puree to have some natural pumpkin sweetness, go for a baking pumpkin.
If you want a more all-purpose pumpkin that you can use for either sweet or savoury dishes, choose a carving pumpkin. These are the ones you typically find in big bins in front of your grocery store in October or sold by farmers in pop-up stands.
Baking pumpkins tend to be more expensive, and harder to find! That's why I tried to grow some this year. My vines had a lot of blossoms so I felt very hopeful about them but, alas, I ended up with only one pumpkin. I have a lot to learn about gardening!
Anyhow, when choosing a pumpkin, look for one that is bright orange with minimal blemishes.
Step 2: Bring your pumpkin home
Just kidding! I'm not going to be ridiculous and list every single step.
Step 2 (for real): Wipe the pumpkin
Take a clean cloth and wipe your pumpkin down. I like to use my E-Cloth Kitchen Cleaning Cloth
(affiliate link) for two reasons:
1) The cloth eliminates 99% of bacteria! Harmful bacteria found in soil, such as E-coli, can be found on the surface of produce.
2) If you rinse your produce under water (instead of wiping with a cloth), the bacteria can be further spread when the water lands on the produce and splashes on your counter, or clean dishes, in the near vicinity.
Step 3: Slice pumpkin in half
Using a large sharp chef's knife, slice in half from top to bottom.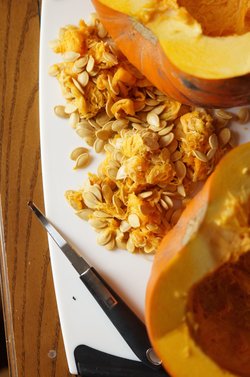 Step 4: Scoop out the seeds
Every fall I take the recommendations from other tutorials and use a spoon to scoop out my pumpkin, which inevitably leaves me very frustrated. It doesn't work very well.
So this year, I outsmarted the pumpkin. I decided to try my Grapefruit Knife
and it was the perfect tool! It is serrated and has a slight curve, so it was perfect for cutting off the string while leaving the fleshy pumpkin behind! If you don't have a Grapefruit Knife
, I highly recommend getting one like this (affiliate link).
Scoop the seeds and stringy bits in a large bowl. When you've got them all, pour water on top to cover. We'll return to these later.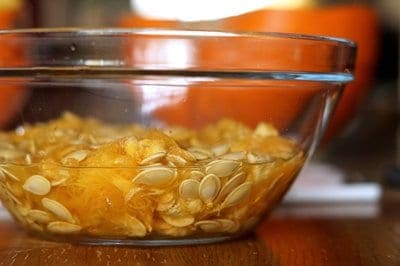 Step 5: Roast pumpkin
Place your pumpkin halves cut-side down in baking pans or a roaster. Then fill with water about 1/4 inch deep. For my dishes and pumpkin size, this translated to 2 cups of water in each pan. Place your pumpkin in the oven at 350 degrees and bake for about 30 minutes. You'll know it's cooked when you can easily stick your chef's knife (from step 3) into it.
Step 6: Peel pumpkin
Remove from oven and allow to cool enough so that you can handle the pumpkin. Then, using your chef's knife again, peel the pumpkin, being careful to remove as little flesh as possible. I find this the easiest, but as an alternatively you can flip the pumpkin over and scoop out the flesh.
Step 7: Slice into chunks and blend
Slice the pumpkin into large chunks and puree in your blender or food processor. If you have neither, make sure your pumpkin got really really soft in the oven. Then you can just use a fork to mash it. You obviously won't get it as smooth but it will work just fine for baking with.
Step 8: Portion and freeze
Since a lot of recipes call for 1 cup of pumpkin, I like to freeze mine in 1 cup portions. But that's just me.
You're now done with the puree. But…. don't forget about those pumpkin seeds! They are jam-packed with nutrition and deliciousness so we're going to roast them and eat them. Yum yum.
(bonus) Step 9: Prepare seeds
Take your bowl of stringy bits and seeds covered in water. The water helps to loosen the seeds from the strings and take off any strings stuck to the seeds. Separate and place the seeds on a clean tea towel to dry off. Then use your favourite recipe to roast! My favourite is this one for Sweet and Spicy Pumpkin Seeds.
And… you're done!
p.s. You've also saved a lot of money.
At the most economically priced grocery store in my neighbourhood, the regular price for a 3 cup can of pumpkin is $4.50.
My pumpkin cost $5.00 and yielded 13.666 cups of pumpkin and 1 cup of seeds! (side note: isn't that yield so perfect for a typically Halloween food?)
So, you get approximately 4 times the pumpkin for the same price!! I chose a medium sized pumpkin from the bin. If you chose a larger pumpkin, you would yield even more. Yippee!!