This post was written in paid partnership with the Dietitians at the Canadian Sugar Institute. As always, all opinions are my own.
Have you ever heard the phrase "all foods fit?"
In the Dietitian world, we often talk about balanced eating where you can enjoy some "treats" while still focusing most of your food intake on nourishing, whole foods with plenty of fruits, veggies, fibre, and protein!
When it comes to free sugar, we know that consuming too much can take the place of food that contains essential nutrients our bodies need to thrive. So yes, we don't want to overdo it, but it doesn't mean that we need to cut sugar out entirely.  I'm not aware of any research study that shows a healthy diet means NO sugar whatsoever.
Health Canada recently reviewed the data on patterns of healthful eating and found that a nourishing diet has around 20% of its calories coming from sugar (both added and that found naturally in whole foods).
But what does that look like in practical terms?
The Dietitians at the Canadian Sugar Institute created a one day sample meal plan using recipes from chef Claire Tansey's book, Uncomplicated, to demonstrate what Health Canada's sugar guidelines look like in a practical way!
And you know me… I'm all about taking complicated nutrition science and translating in ways you can directly apply to your life!
I want to HIGHLIGHT, EMPHASIZE, (aka shout from the top of my lungs!) that the 100g/day is not meant to be a prescriptive amount. In other words, this is not a minimum or a maximum amount to aim for. This amount is simply consistent with what is typically found in a healthy balanced diet.
Again, the 100g includes ALL sources of sugar. In this one day example, approximately one third of sugars are added sugars (aka free sugars) while the rest are inherently found in whole foods such as fruit and dairy products.
Now,  let's take a look at the daily menu!
Breakfast: Bircher Muesli with plain yogurt
Oats soaked in apple juice and spices, mixed with seeds, chopped pears, and plain yogurt.
Snack: Berries!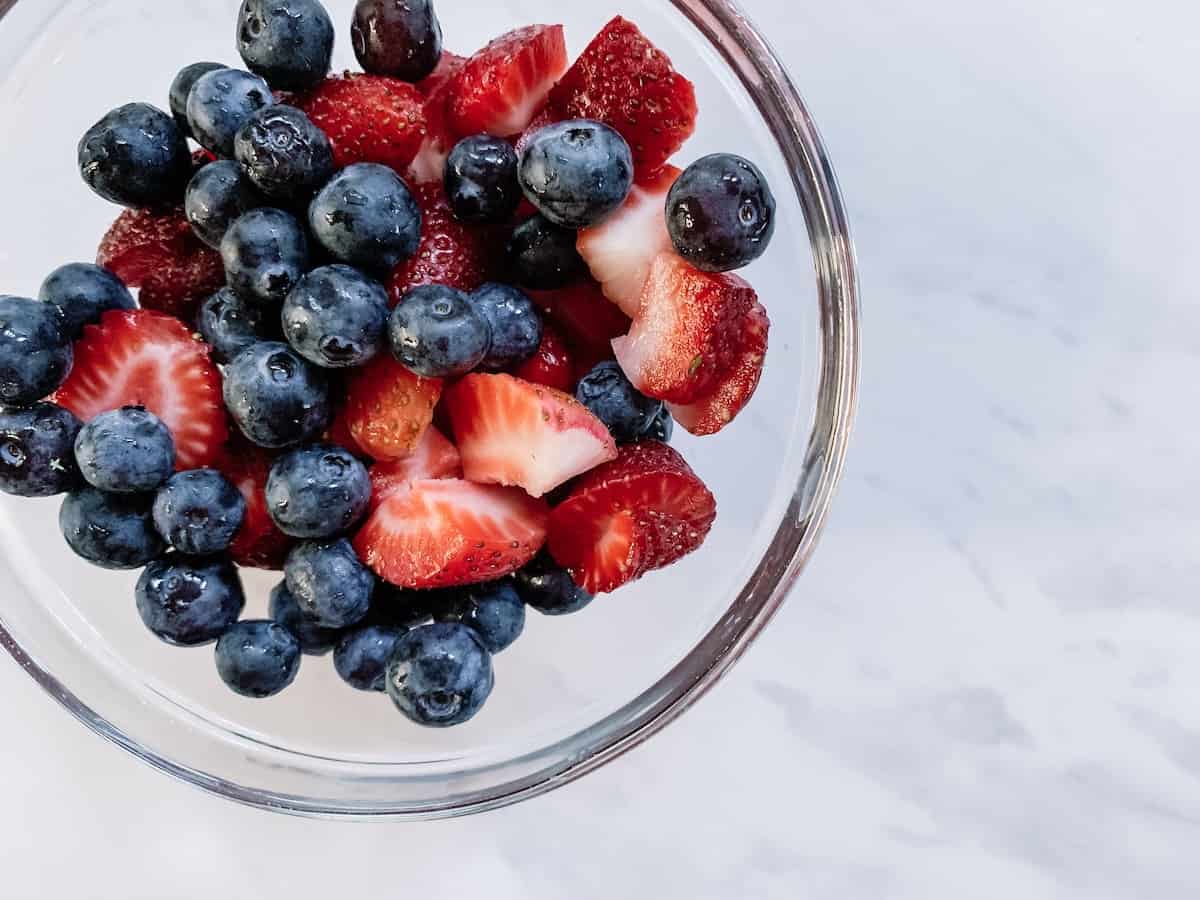 Lunch: Chilled Cucumber and Sesame Noodles with Tofu and Bok Choy
Loved the sesame forward flavour of this refreshing "pasta salad." I like the way the tofu crumbled and became a bit like a feta cheese a it clung to each spaghetti noodle.
Snack: Secretly Green Smoothie
This recipe uses kale stems for the "greenness." This is pure genius! I've always tossed my kale stems into the compost so I'm pumped to find a new way to reduce food waste! Even though I'm a bit of a smoothie-o-holic, it had never occurred to me to throw the stems in before!
Supper: Coconut Chicken Curry
Curry doesn't have to be tricky when you can buy a nice jar of curry paste! The spice is nicely balanced with the cooling coconut milk.
Dessert: Plum-Almond Galette
Now let's talk about this pie….
I've always been more of a cake person than a pie person.  Don't get me wrong; I enjoy eating a good pie (and really, what's Thanksgiving without pumpkin pie and whipped cream?). But, I've never been drawn to making my own pie. The idea of fussing with pie pastry has never appealed to me.
That is, until Claire introduced me to this no fuss, no muss entirely FORGIVABLE pie pastry!
Allow me to walk you through how ridiculously easy this is:
Blitz three ingredients together in a food processor.
Allow to chill in the fridge.
Bring to room temp and roll out!
Claire's official instructions are to roll out on a floured counter first and then transfer to the parchment paper. I thought I would see if I could go one step EASIER and roll it out right on the parchment: worked for me! Claire said her parchment tends to bunch up when she does that but I had no issues!
For all these recipes (and plenty more), you can order the Uncomplicated recipe book here on Amazon.
And if you want to see more daily 100g sugar menus, the sugar institute has a whole bunch more over here!
Plum-Almond Galette
Print Recipe
A simple no-fuss recipe where you can really say "as easy as pie!"
Ingredients
Forgiving Food Processor Pastry
1 1/2

cups

225 g all-purpose flour

1/8

teaspoon

salt 1/2 cup

115 g cream cheese, cold and cubed

1/2

cup

115 g butter, cold and cubed
Galette Filling
8 to 10

red plums

1

⁄2 cup

105 g granulated sugar

1

tablespoon

cornstarch

1

teaspoon

almond extract
Instructions
Forgiving Food Processor Pastry
Combine flour and salt in the food processor. Pulse to combine.

Add cream cheese and butter, and pulse for 30 seconds to 1 minute or until dough comes together in a loose ball.

Shape the dough into a flat disc about 1 inch thick. Wrap in plastic wrap and chill at least 30 minutes before using.

To use the pastry, leave it at room temperature until it's pliable enough to roll. Depending on the weather this can take 30 minutes (summer) or 3 hours (winter). If frozen, thaw it in the fridge first, then leave on the counter until pliable.
To make the galette:
Preheat the oven to 425°F. Line a large rimmed baking sheet with parchment paper.

Roll out the pastry on a lightly floured counter, using a lightly floured rolling pin, into a 14-inch circle. Loosen the pastry from the counter by gently sliding a thin metal spatula underneath it, then transfer to the prepared baking sheet.

Pit the plums and slice each one into 6 to 8 wedges. You should have about 8 cups. Whisk the sugar and corn starch together in a large bowl, then add the plums. Drizzle with almond extract, then stir everything together. It will be a bit messy and clumpy, but don't worry.

Pile this mixture into the middle of the pastry and smooth it out, leaving a 2-inch border. Fold the pastry border up over the filling, pleating as necessary.

Bake 15 minutes. Reduce heat to 350°F and bake another 20 to 25 minutes or until the crust is golden and the filling is very bubbly. Let stand at least 1 hour before serving.

Tip: For a golden top edge, brush the folded-over pastry with a little water or cream, then sprinkle it with coarse or granulated sugar before baking.

Make ahead: The pastry can be made well in advance and the pie can be baked and kept at room temperature for up to 12 hours.
Notes
Excerpted from Uncomplicated: Taking the stress out of home cooking by Claire Tansey. Copyright © 2018 by Claire Tansey. Published by Penguin Books, an imprint of Penguin Random House LLC. Reproduced by arrangement with the Publisher. All rights reserved.
Nutrition
Serving:
1
/8 pie
|
Calories:
372
kcal
|
Carbohydrates:
51
g
|
Protein:
5
g
|
Fat:
17
g
|
Sodium:
180
mg
|
Fiber:
3
g
|
Sugar:
30
g
Servings:
1
(10 inch) pie
For more reading on sugar & healthy eating, check out these articles!