Description
A super easy way to make TEXTURE perfect tofu! The outside is baked to a crisp and ready to be tossed in your favourite sauce.
---
Ingredients
1 block of extra-firm tofu (important to buy EXTRA firm)
2 tbsp of cornstarch
1 tbsp nutritional yeast (optional but highly recommended!)
1 tbsp of light tasting oil (canola or olive)
Dash of salt
Ziplock bag or sealable plasticware (ex: Tupperware)
---
Instructions
Step One:
Preheat oven to 400 degrees Fahrenheit. This doesn't require a large pan so if you have a toaster oven, it will work just fine. Cut a slit into the tofu packaging and drain out most of the water. Remove the packaging and wrap the tofu in a piece of paper towel and then a clean tea towel.
Step Two:
Press the tofu for 10-20 minutes. Since your arms will get tired if you try to do this yourself, employ the help of a heavy pot. Just pot the pot on top and let it do the work for you.
Step Three:
Cut the tofu into little cubes. I was looking at one of my friend's cookbooks and I found a page called "how to butcher tofu". Not butcher as in ruin, but the literal meaning of butcher. It gave very detailed instructions on how to cut the tofu into cubes. I laughed because I thought it was a bit overkill (haha, see what I did there?) but my friend reminded me that not everyone has experience in the kitchen so this could be a helpful diagram for them. She was right. There's not much harm in overdoing directions but there is harm in leaving people hanging without knowing what to do. So… in light of that, here is how I like to cut my tofu:
a) lengthwise into halves or thirds so that you end up with 2-3 flat pieces
b) cut the flat pieces into strips
c) cut the strips into cubes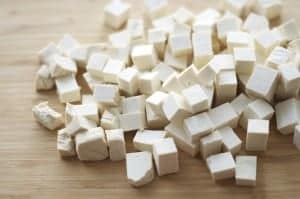 Step Four:
Place the tofu, cornstarch, nutritional yeast (if using) and the salt in the Ziplock bag or sealable container and shake to coat.
Step Five:
Open the bag or container and pour in the oil. Reseal and shake to coat.
Step Six:
Place tofu on an ungreased baking sheet in a single layer. Bake for 10 minutes. Flip the tofu and bake for another 5 minutes.
Step Seven:
Serve over rice and stir-fried veggies with your sauce of choice. See below for some of my favourites!