I made this the other day and while we were enjoying the luscious, fudge, smooth pudding I told my husband that I should probably post the recipe since I hardly have any sweet recipes. He laughed in response. While he was laughing I was formulating my response…
Hey! Dietitians enjoy dessert, too!
This dessert has redeeming qualities: cocoa! eggs! peanut butter! milk!
But instead of turning on the defences, I just asked what he thought was so funny.
His response?
"I'd hardly call this a recipe…"
At this point I couldn't hold back. I was about to burst out in defence of my cooking, but he continued,
"Step 1: add peanut butter to chocolate pudding"
Then I started to laugh because I realized what he was thinking… oh my dear, sweet, clueless-in-the-kitchen husband thought I had simply added peanut butter to a box of instant chocolate pudding.
Why It's A Smart Choice
This recipe is much more than a box of instant chocolate pudding. It has wholesome qualities like eggs, cocoa, and peanut butter that you won't find in a box of pudding! You also won't find food dyes, which are in a box of instant pudding. Additionally, it's not dripping with sugar like most chocolate pudding recipes.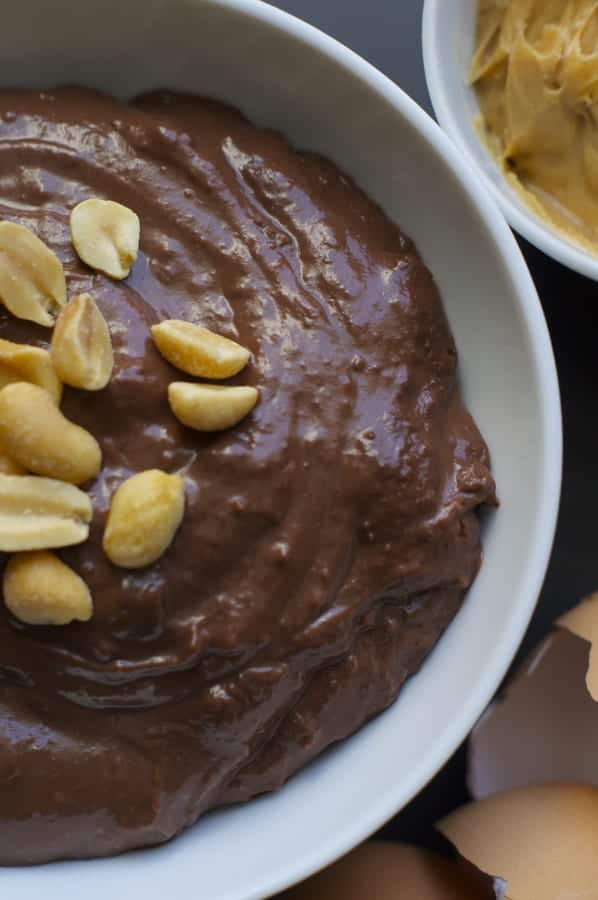 If you give this recipe a go, let me know! Leave a comment, rate it, or snap a photo and tag it with #smartnutritionrecipes on Instagram! I'd love to see your creations! Knowing someone has enjoyed one of my recipes always makes my day brighter.
Print
Chocolate Peanut Butter Pudding
---
Ingredients
⅓ cup sugar
2 tbsp cornstarch
⅓ cup cocoa
¼ tsp salt
2 cups milk
2 eggs
1 tsp vanilla
2 tbsp butter
½ to ⅔ cup peanut butter
---
Instructions
In a medium sized saucepan, combine the sugar, cornstarch, cocoa, and salt.
Add a little bit of the milk (about ¼ cup) and whisk until a paste forms.
Slowly add more milk, whisking well in between additions.
Once all the milk has been added, heat over medium heat.
In the same measuring cup you used to measure the milk, crack open the two eggs. Set aside.
As it heats, whisk, whisk whisk the milk mixture.. Don't stop whisking!
Once the mixture has boiled and thickened, pour about a ¼ cup into the eggs. (just eyeball it) Whisk well. Continue adding a small amount of the thickened mixture to the eggs, whisking well in between each addition. Once you've added about half the mixture into the eggs, then transfer all the egg mixture back into the pot.
Whisk, whisk, whisk and cook one minute.
Remove from heat and add in the vanilla, butter, and ½ cup of peanut butter. Take a taste. Does it taste peanut buttery enough for you? If yes, then you're done. If not, add a bit more peanut butter until it meets your peanut butter satisfaction.
Notes
This pudding tastes delicious either hot or cold!