This one pan Pad Thai is so easy, you'll question ever ordering out for Thai again. It's far tastier than any Pad Thai dish I've had outside of Asia.
One of the biggest drawbacks of living up north is the loss of daylight. The time change for daylight savings is the worst. I made this Pad Thai for dinner today…. at 3:30 PM. I suddenly realized that if I wanted to photograph it in natural light I'd have to hurry my booty up and start making dinner two hours earlier than usual. And the photos STILL turned out dark!
So the photos aren't the greatest, but the recipe is!
Why Not Thai?
This Pad Thai is so easy, you'll question ever ordering out for Thai again. It's far tastier than any Pad Thai dish I've had outside of Asia. The Thai restaurants in Canada just don't seem to know how to do it right.
One summer, my friend and I traveled/volunteered our way through South East Asia. We ate Pad Thai nearly every single day. You can't argue with a $.50 meal!
We also took a cooking class, which was a ton of fun, but it was disappointing to come home and realize most of the key ingredients were unavailable in our city. Kefir lime, galangal, Thai basil…. no one carries those around here! The only dish I could make was Pad Thai.
I've "Dietitianed" the original recipe slightly by adding more veggies and making some other alterations, but it still tastes incredibly authentic. When I tasted my creation I was transported back to the streets of Chiang Mai.
In every restaurant we visited in Thailand, there were little covered dishes containing four condiments: chopped peanuts, chili flakes, lime slices, and granulated sugar. During our cooking class we learned that these are available so that each individual can alter the meal to their own liking:
Add chopped peanuts for saltiness
Add chili flakes for spiciness
Add lime slices for sourness
Add granulated sugar for sweetness
My preference is to add a small squeeze of lime and a few scoops of peanuts.
Why It's A Smart Choice
The recipe includes shrimp, pork, or chicken, but it's more of an accent than the main feature. This is one way to enjoy meat, while cutting down on your intake. It's still a very balanced meal, because the ingredients also include tofu, eggs, and peanuts, which are all vegetarian sources of iron and protein.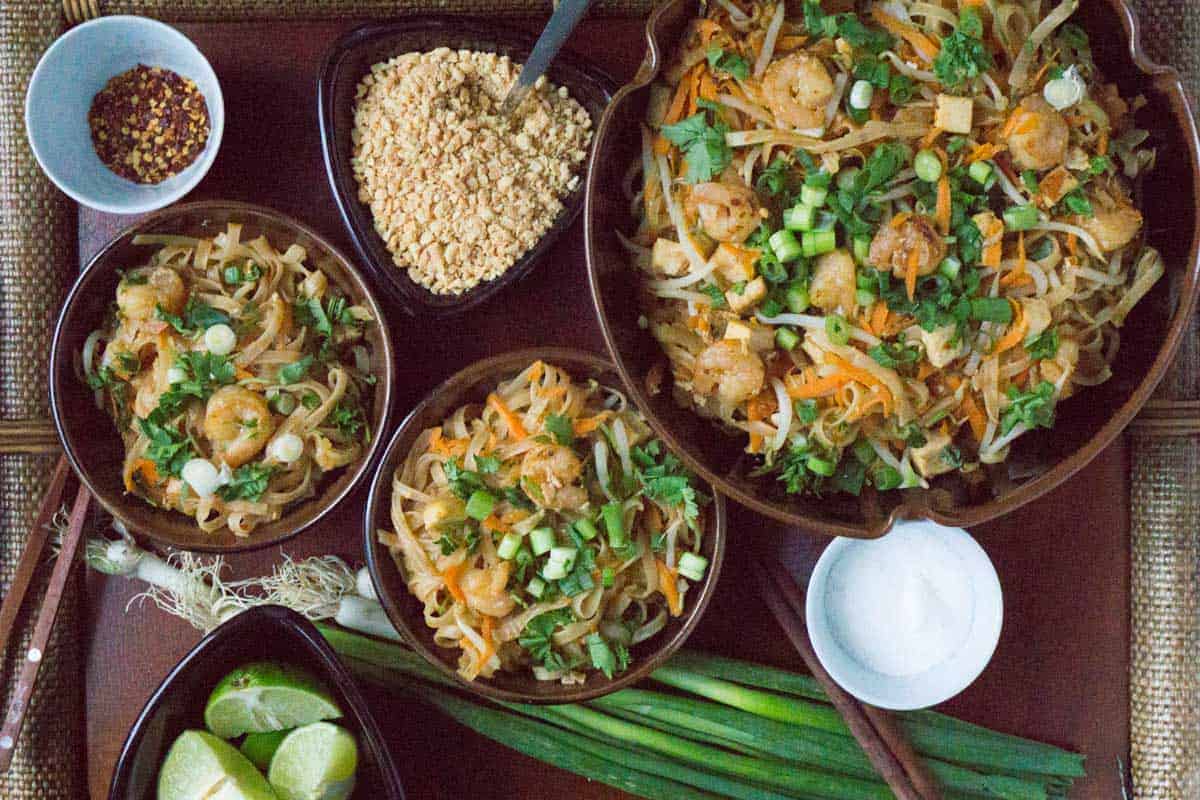 If you give this recipe a go, let me know! Leave a comment, rate it, or snap a photo and tag it with #smartnutritionrecipes on Instagram! I'd love to see your creations! Knowing someone has enjoyed one of my recipes always makes my day brighter.
Easy One Pan Pad Thai
Print Recipe
Ingredients
1

tbsp

canola oil

1

tbsp

sesame or peanut oil

2

onions

sliced thinly

100

g

3 ounces extra-firm tofu, pressed and diced

6

cloves

garlic

¼

tsp

chili flakes

225

g

½ lb shrimp or very thinly sliced chicken or pork

1

egg

2

tsp

sugar

1

tbsp

fish sauce

2

tbsp

oyster sauce

250

g

1/2 lb flat rice noodles (shaped more like fettuccine)

1

carrot

shredded

200

g

7 oz bean sprouts

limes

chopped peanuts

chili flakes

sugar

green onions
Instructions
In a wok or large skillet, heat the oils over medium. When hot, add the onions, tofu, garlic, and chili flakes. Cook until the onions are soft.

Add the shrimp (or chicken or pork). Stir fry until fully cooked.

Add the egg and stir fry until the egg is cooked.

Add the sugar, fish sauce, oyster sauce, noodles, and 1 ½ cups of water. Cover. Open and stir every minute or so. Try to press the noodles into the water in order for them to soften and cook.

Once the noodles are soft add in the carrot and bean sprouts. Stir to combine.

Serve with fresh cut limes for squeezing, chopped peanuts, extra chili flakes for those who want more spice, and sugar for those who like it sweeter.
Notes
If you're a vegetarian that's okay with fish and oyster sauce, feel free to increase the tofu to 350g and skip the shrimp/chicken/pork!
Nutrition Info: 411 calories, 10g fat, 61g carbs, 3g fibre, 7g sugar, 22g protein
[share title="Share This Article" facebook="true" twitter="true" google_plus="true" linkedin="true" pinterest="true" reddit="true" email="true"]