I thought I knew what hot weather was until I visited South East Asia. Heat. Humidity. Suffocating lack of air movement. My poor, pale skin. To top that off, I had arranged to spend two weeks volunteering… moving bricks all day long. I thought I was going to die.
Then someone handed me a Vietnamese Iced Coffee, and everything changed.
[adinserter block="1″]
Suddenly I could breathe again! I came alive! I am forever grateful to the Vietnamese Iced Coffee for saving my life in 'Nam.
Now, every summer I look forward to enjoying one of these refreshing delights on a hot day. Traditionally they are made by filling a glass with ice, pouring in sweetened condensed milk, and brewing fresh coffee over top. They're more on the indulgent side so I decided to lighten the recipe up a little bit and add in some evaporated milk.
Why It's A Smart Choice
This version has LESS sugar than the original. Most of us could stand to reduce our sugar intake. The World Health Organization recommends that you get less than 5% of your calories from added sugars.
Coffee contains healthy antioxidants that can lower the level of inflammation in your body and reduce your risk of developing certain chronic diseases.
Did I mention how refreshing they are?
Foyer Coffee
I feel like such a hipster. I just purchased a bag of locally roasted coffee beans, from the very first batch available to the public, by a brand new roasting company here in Winnipeg. Coffee + new discovery = hipster, right? I'm not sure a real hipster actually wants to be a hipster, though. Ah well.
These beans are fantastic. If you live in Winnipeg and want some local coffee deliciousness, check them out on Instagram @foyercoffee.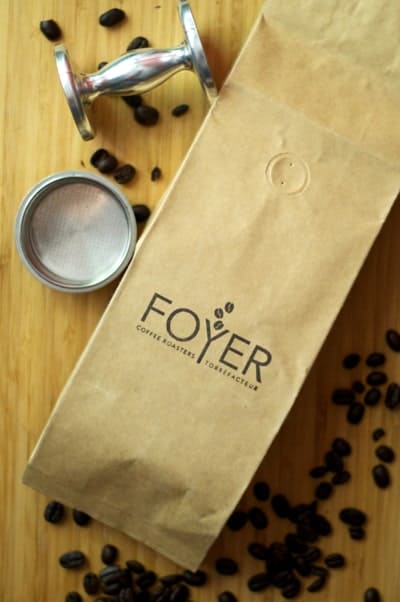 I have an espresso machine, so that's what I use to brew my coffee but the real traditional way is to use a Vietnamese brewer filter. You place the filter on top of your glass, put the ground beans inside and fill with hot water. The coffee brews by gravity into your glass on top of the ice and creamer.

This is also a convenient way to make coffee while you're camping! I don't know about you but I can't go without my morning coffee, especially when sleeping outdoors. Last year we went camping and I brought an electronic coffee maker, thinking I could use the outlets on our borrowed tent trailer. Turns out the electrical didn't work so I brought the whole operation down to the washrooms where I found an outlet to brew my java. Desperate times call for desperate measures.
My espresso machine is an older model now, so the one here is a more recent version. I've had a couple of espresso machines, and I've worked at a few coffee shops in my life, so I feel qualified to say that the Breville is a ridiculously impressive machine. Getting a nice crema with it is fool-proof. My last machine forced me to tinker and dinker in order to get a good crema; I had to make sure to grind the beans just right and tamp the grinds with the right amount of pressure. Breville has some voodoo magic in their machines that consistently produces a beautiful crema. Granted, I can no longer take credit for producing a luscious espresso, but I'm okay with making that sacrifice to my pride.

If you give this recipe a go, let me know! Leave a comment, rate it, or snap a photo and tag it with #smartnutritionrecipes on Instagram! I'd love to see your creations! Knowing someone has enjoyed one of my recipes always makes my day brighter.
Print
Lightened Up Vietnamese Iced Coffee
---
Ingredients
1 can evaporated milk
1 can sweetened condensed milk
ice
freshly brewed espresso or strong coffee
---
Instructions
To make the creamer
In a sealable container, stir together the evaporated milk and sweetened condensed milk.
Store in the fridge.
To make the iced coffee
Fill a glass halfway with ice.
Pour in 3 tbsp of creamer.
Top with freshly brewed espresso or strong coffee.
So what do you drink to cool off on a hot summer day?
Note: this article contains affiliate links. If you purchase anything after clicking on the photos, I will receive a small commission. The price isn't higher but you'll help to support the sustainability of this blog! Thanks.