Perfect for your summer refreshment repertoire; 4 easy, delicious and cool summer smoothie recipes!
This post contains paid and/or affiliate links. Read full disclosure here.
Get out your blender because it's going to get a good workout this summer!
A local magazine, Sequoia, that explores "life, faith, and beauty in the everyday" asked me to create smoothie recipes for their summer edition and I had the privilege of spending a fun afternoon making all four of them with the team, including the talented photographer, Gabrielle Touchette, who took all the photos in this post.
My aim was to use both local summer fruit and tropical flavours for fresh, bright smoothies!
My second aim was aaalll aesthetics: I wanted a pretty colour scheme!
And, of course… as with all my smoothies, they're also a balanced meal or snack! They will satisfy you and keep you full for hours 🙂
Four Summer Smoothie Flavours
Let's take a look at our lineup….
Peaches n Cream
To achieve the "creamy" flavour, I used cottage cheese! I love cottage cheese because it's full of protein, which will keep you fuller for longer, and has a modest amount of fat, which will also keep you fuller for longer!
For both a veggie boost, and to give it a richer orange colour, I threw in some carrots as well!
You can use either fresh, frozen, or canned peaches for this recipe.
Strawberry Lemonade
Is there anything more refreshing than lemonade on a hot summer's day? Okay, well maybe a cold glass of iced tea could give lemonade a run for its money! Hmm, now that's giving me an idea for a future post: frozen iced tea!
Enough of me thinking out loud! Back to the smoothies! Lemonade is soo refreshing but it's not exactly a snack. So I set out to create a full balanced snack version of a refreshing lemonade!
I included pasteurized eggs white for protein and chia seeds for fibre. The end result? Nearly 15g of protein and over 8g of fibre in each smoothie! If those numbers don't mean anything to you, the short of it is that this will definitely satisfy your hunger and keep you feeling fuller for longer, so you can just focus on enjoying that summer sunshine!
Raspberry Vanilla
This smoothie is more of a two-step process…. but don't worry, it's well worth the fuss! To achieve a richer raspberry flavour and depth of colour, I used cooled brewed raspberry tea. So you'll need to make the tea and allow it to cool before making the smoothie.
Pina Colada Almond
Pineapple and coconut is a perfect match but I couldn't help myself and I took things one step further by adding ALMOND to make this a triple flavour threat!
Not only are almonds delicious they also add protein, fat, and fibre. If you've read this far then you already know what that means! These three nutrients will keep you feeling fuller for longer!!!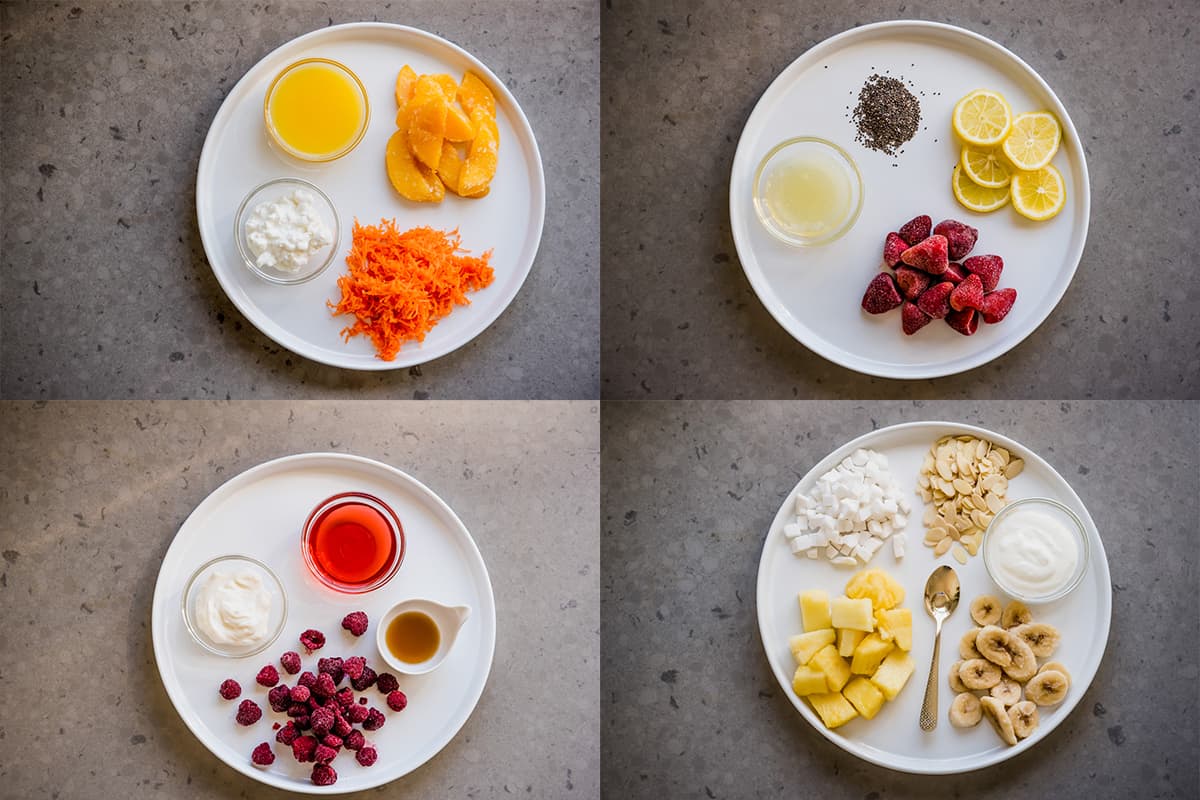 Why These Summer Smoothies are a Smart Choice
These smoothies are…
Hydrating: when it's hot, you want to up that fluid intake!
Quenching: thirst satisfying!
Filling: instead of only satisfying your thirst, like a beverage would, you'll be satisfying your hunger as well!
And if you want to take things to the next level, and make these even more filling, then I'd suggest adding a scoop of unflavoured, unsweetened protein powder. A lot of brands will add in flavourings, unproven ergogenic aids, and artificial sweeteners, which would change the taste of the smoothie. Which is why I like Naked Nutrition's products; they only contain one ingredient! Their whey protein would suit each of these smoothie recipes nicely.
Click here and get 10% off your order using promo code NAKED10!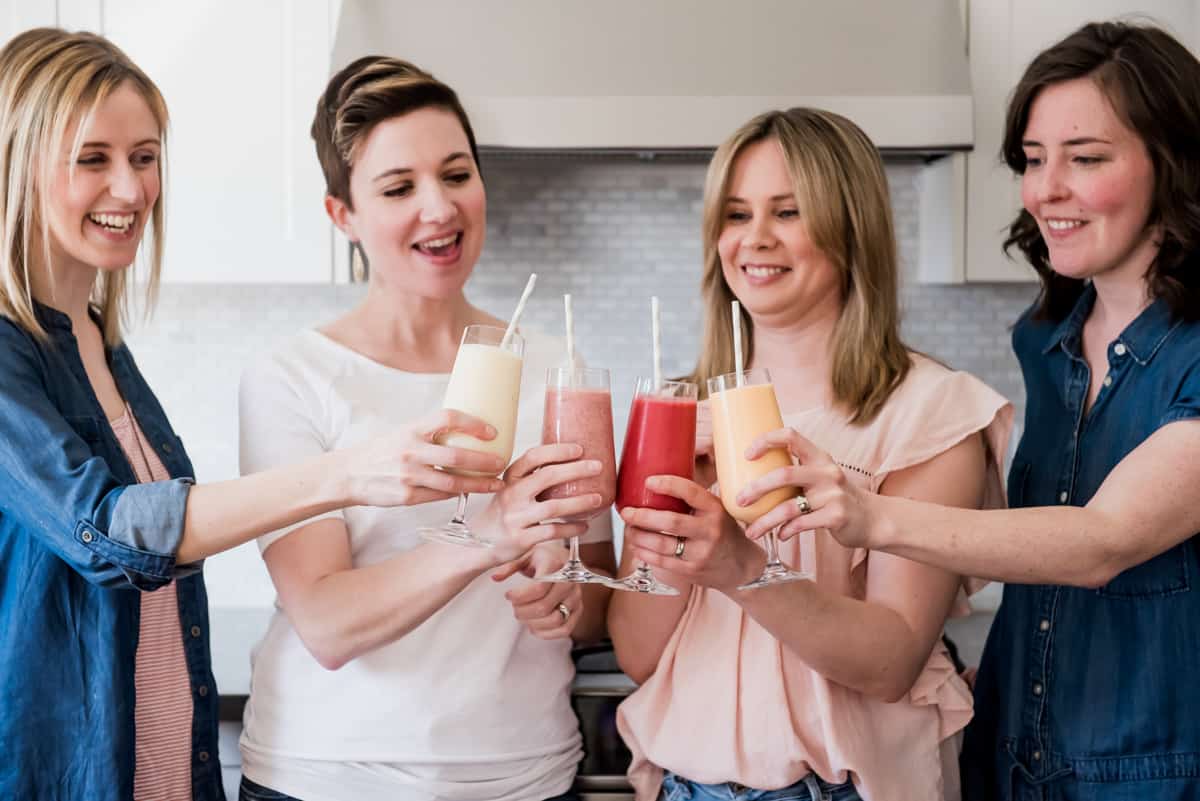 Pro tip: Have you ever noticed how a smoothie just does not taste the same way if it sits out or in the fridge for longer than an hour? If this ever happens, grab some popsicle molds and put your extra "flat" smoothie in the freezer and you've got a nice cool treat for a sunny afternoon!
Print
Raspberry Vanilla Smoothie
---
Description
light and flavourful with just the right amount of creamy
---
Ingredients
1 cup prepared raspberry tea
1/2 cup vanilla flavoured yogurt
2 cups frozen raspberries
1/2 teaspoon vanilla extract
---
Instructions
For each smoothies, place the ingredients (in the order listed) into the blender
Start on low and then gradually turn to high speed. Blend until smooth
Add more liquid (juice or yogurt)  as needed to get a smooth blend.
Most of these smoothies are on the less sweet side. If it's not sweet enough for your liking, feel free to add a tablespoon of liquid sweetener such as frozen juice concentrate, honey, maple syrup or agave syrup.
Nutrition
Serving Size:

313g

Calories:

195.18kcal

Sugar:

24.94g

Sodium:

50.52mg

Fat:

2.79g

Saturated Fat:

.65g

Unsaturated Fat:

.38g

Trans Fat:

.03g

Carbohydrates:

39.96g

Fiber:

10.75g

Protein:

5.9g

Cholesterol:

3.06mg
Print
Peaches 'n Cream Smoothie
---
Author:

Yield:

2 Servings
Description
silky smooth and full of protein!
---
Ingredients
1/2 cup cottage cheese
1/2 cup orange or mango juice
1/4 cup shredded carrot
2 cups frozen peach slices
---
Nutrition
Serving Size:

373.8g

Calories:

273.95kcal

Sugar:

21.73g

Sodium:

188.88mg

Fat:

1.44g

Saturated Fat:

.71

Unsaturated Fat:

.47

Trans Fat:

.04

Carbohydrates:

26.21

Fiber:

3.4

Protein:

7.1

Cholesterol:

6.78mg
Print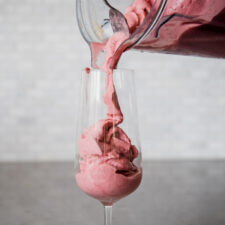 Strawberry Lemonade Smoothie
---
Description
cool, refreshing and energy boosting!
---
Ingredients
1 cup pasteurized egg whites
Juice from 1/2 a lemon (about 1 1/2 tbsp)
2 cups frozen strawberries
2 tbsps chia seeds
---
Nutrition
Serving Size:

363g

Calories:

178.59kcal

Sugar:

10.47g

Sodium:

196.14mg

Fat:

3.35g

Saturated Fat:

.4g

Unsaturated Fat:

2.75g

Trans Fat:

.01g

Carbohydrates:

27.22g

Fiber:

8.12g

Protein:

14.65g

Cholesterol:

0mg
Print
Piña Colada Almond Smoothie
---
Ingredients
1 1/2 cups plain yogurt
1/4 cup blanched sliced almonds
1/4 tsp almond extract (optional)
2 cups frozen pineapple chunks
1/3 cup frozen coconut chunks
1 banana, cut into chunks and frozen
---
Nutrition
Serving Size:

373.8g

Calories:

375.32kcal

Sugar:

31.85g

Sodium:

92.48mg

Fat:

17.26g

Saturated Fat:

8.24g

Unsaturated Fat:

.64g

Trans Fat:

.04g

Carbohydrates:

46.76g

Fiber:

7.18g

Protein:

11.79g

Cholesterol:

7.35mg
Want more smoothie recipes?
Want quick, easy, and filling breakfasts?
I've got a printable plan complete with grocery shopping list, instructions, and recipes that will stock your freezer with 20 smoothie packs! Oh, and as an added bonus, there are VEGGIES in these recipes!